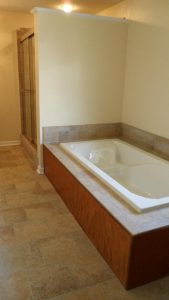 If you're considering buying a new bathtub, you might be unsure what to get because of the dozens of types and designs that available in the market.
The bathtub is typically the largest item in your bathroom and it's important that you choose well so it won't clash with your existing design. That's why we've come up with a list of some types of bath tubs that you may want for your home. Reading the descriptions may help you decide what's best for what you're looking for.
Cast-Iron Bathtubs
These types of bathtubs sometimes are very expensive, especially if it's an antique. However, it does project a classic luxury and elegant look that is always in style.
If your existing tub is made of cast-iron, you should contact your local bathtub contractor first before replacing it with a new one. It might be that your tub is worth a pretty penny and it would be a waste to just throw that away. You might be able to sell it, exchange, or perhaps even keep it.
The popularity of cast-iron tubs is growing and if you decide to keep it, you may be able to hire a contractor to restore it back to it's sparkling new self. Some companies can do the restoration on site, while others you might have to take it to their workplace. These tubs are heavy and if you do have to remove it, you'll need two or three people to lift it
Modern Bathtubs
Modern tubs use different materials like steel, plastic and acrylic. Though some of these materials are remarkably light, they're still tough and solid. Tubs made from plastic or acrylic can be easily carried, fitted, and installed by even a single person (though you might want to consider hiring a professional to get the job done right). Steel tubs are often heavier and require more installation and tools.
Tubs made from these materials can be formed into unique shapes and designs and they can also be matched in color with the panels or front and rear taps (though white tends to be one of the most popular colors).
Circular Bathtubs
If you're considering this type of bathtub, you should have a large floor space. This design gives your bathroom a certain vibe and display that can truly make your bath time something to remember and relish. If you add some interior design, it might even give your bathroom a look of glamour and luxury that other people will envy.
Space Saving Tubs
These designs maximize the space inside your bathroom. They're usually placed at the side or corner of the room and they're becoming very popular because of their uniqueness as well as space-saving characteristics (this is especially important if you have a small bathroom).
The tub is angled in a way inside the bathroom to take as little wall space as possible and make way for shelves or perhaps even a towel warmer. Another option is to place a compact shower cubicle alongside the tub if space permits. They usually come in different colors, themes and sizes, making customization an easy thing to do.
Regular Bathtubs
Regular bathtubs are rectangular in shape and are the most common as well and usually the most inexpensive type available. It can fit any theme or bathroom design and come in different lengths depending on the use you'll give it.
There you go, the styles and types of bathtubs you can get to replace your old tub or furnish it with a new one. Either way, be sure to choose a design that will complement and be in harmony with your bathroom's theme as well as the overall design of your home.